The olfactory perception
of the missing sealed manila envelope
is not pleasant.
- quote from Braswell v. State of Tennessee
by Judge John Everette Willams
Court of Criminal Appeals
MISSING EVIDENCE RESURFACED AFTER 15 YEARS WITH CREDIBLE
ALLEGATIONS THAT EVIDENCE WAS STOLEN FROM COURT RECORDS, EVIDENCE OF INNOCENCE WAS WITHHELD, AND VERN WAS THE VICTIM OF RACE BASED TREATMENT BY THE SHELBY COUNTY DA's OFFICE.
In July of 2020 following a George Floyd march and moment of reflection by the Memphis - Shelby County legal community, Vern Braswell received a letter of apology from anonymous source who apparently participated in the march and seemed to be having a moment of conscience as a result of their participation.
In what seemed to be an attempt to make partial amends or to establish credibility, the source produced some actual original document
that went missing from Vern's Shelby County Criminal Court files immediately before his appeal 15 years earlier.
The apology letter said:
evidence which indicated Vern was not guilty of murder was withheld from his trial attorneys in 2

005,

character evidence

and s

entencing

evidence was stolen from Vern's trial court files in order to sabotage his character based appeal,

these items were kept in a sealed

envelope found in the prosecution's possession

during Vern's case,
that keeping w

ithheld evidence in envelopes is a common practice,

W

hite defendants are treated "more fair" than Blacks by the Shelby County DA's Office, and

a young Black attorney lost her law practice because she honestly spoke out (and testified) about seeing the sealed envelope of withheld evidence while it was in the prosecution's possession

.



READ THE BOMBSHELL LETTER OF APOLOGY AND SOME OF THE ORIGINAL DOCUMENTS THAT WERE STOLEN FROM THE COURT FILES RIGHT BEFORE VERN'S CHARACTER APPEAL.
https://drive.google.com/folderview?id=16IliK8H_C-QSlmOvgZAUs2qhhvHUNdqN
VIDEO SHOWS EVIDENCE OF DIFFERENT TREATMENT OF DEFENDANTS OF DIFFERENT RACES BY SHELBY COUNTY DA's OFFICE - Link to Video
FORENSIC EVIDENCE OF CRIMINAL ACTIVITY BY SOMEONE INSIDE THE SHELBY COUNTY CRIMINAL JUSTICE SYSTEM TO SABOTAGE VERN'S CASE - Link to Evidence
MEDIA COVERAGE OF MOST RECENT DEVELOPMENTS
NBC affiliate
"Former Memphis educator Vern Braswell hopes resurfaced character letters lead to prison release"
https://www.wmcactionnews5.com/2021/05/03/former-memphis-educator-vern-braswell-hopes-resurfaced-character-letters-lead-prison-release/

NBC affiliate VIDEO
https://www.wmcactionnews5.com/video/2021/05/03/vern-braswell-hopes-letters-lead-release/

ABC affiliate
"New evidence in Vern Braswell case? Family of former school assistant principal convicted of killing wife says new evidence proves his innocence"
https://www.localmemphis.com/article/news/crime/family-of-former-school-assistant-principal-convicted-of-killing-wife-says-new-evidence-proves-his-innocence/522-5def8459-efe7-4573-b9c4-44736eb68eef

PRINT MEDIA

Daily Memphian
New evidence surfaces in 16-year-old murder case
https://dailymemphian.com/article/21692/vern-braswell-sheila-braswell-amy-weirch-character-letters

The Commercial Appeal
Missing 15 years, character letters resurface in Vern Braswell murder case

https://www.commercialappeal.com/story/news/2021/05/03/missing-15-years-character-letters-resurface-vern-braswell-murder-case/4896586001/ 


PRESS CONFERENCE, MAY 3RD, BLACK RECKONING OR WHITE GUILT? WATCH IT ON THE JUSTICE FOR VERN BRASWELL
Watch video plea for support from Vern's mom PLEASE Share using hashtags #JusticeForVernBraswell and #J4VB https://fb.watch/5avmXHuGdj/
WE NEED Y'ALL HELP!

READ Vern Braswell Verzuz the White Cases: Justice vs Just-Us.
"Whites get relief, Blacks get denied, for the same issues in TN Courts".
READ:5 Inmates Died After Judge Refused Cancer Inmate with Doctorate Degree re: COVID Warnings

VERN ACCURATELY PREDICTED CURRENT DEADLY COVID OUTBREAKS AT HIS PRISON, JUDGE WOULDN'T LISTEN.
Since Vern requested emergency release,
5 West TN inmates have died from COVID-19.
4 of the deaths were at the same prison as Vern.
1 of the inmates also had cancer like Vern.
Others were hospitalized.
Mon. Jan 11, 2021 - MEMPHIS JUDGE DENIES VERN'S EMERGENCY RELEASE REQUEST without a hearing to evaluate evidence or arguments about his cancer diagnosis and the COVID-19 outbreaks in prison.
Apparently his Black life doesn't matter to the Shelby County criminal justice system.
Wed, Dec 30, 2020 - Emergency Release Requested For Vern In Court Due to his cancer diagnosis & deadly COVID-19 outbreaks in his prison. Read article by local media:https://www.commercialappeal.com/story/news/2021/01/04/vern-braswell-seeks-early-release-after-2005-murder-sheila-braswell/4099352001/
View the motion for emergency compassionate release from prison filed in state court for Vern Braswell due to his cancer diagnosis and new COVID-19 outbreaks in prison. Vern has 4 years remaining on a 24 year sentence.
COURT FILING: MAJOR POINTS AND STATEMENT
(Click below to view a copy of the court documents

PLEASE SAVE VERN FROM BECOMING A HASHTAG BY

SIGNING OUR EMAIL to the Gov of Tennessee in support of a clemency to commute Vern's remaining 4 years to home confinement because of his CANCER & COVID-19, and remember, it takes less than 30 seconds.
• INSTRUCTIONS
1. CLICK HERETO OPEN THE EMAIL
2. WHEN THE EMAIL POPS UP, ADD YOUR NAME TO THE BOTTOM OF THE EMAIL AFTER "RESPECTFULLY"
3. HIT SEND.
UPDATE: VERN DIAGNOSED WITH CANCER
"Cancer for a Black Man
On the streets of Tennessee during a pandemic,
Can be a critical situation...
Cancer for any Black Man
In the prisons of Tennessee during a pandemic,
Can be a death sentence..."
VERN'S JOURNEY THROUGH THE CRIMINAL "JUST-US" SYSTEM
Vern Braswell was wrongfully convicted of second degree murder and repeatedly denied justice by an all-White alliance of elected court officials and judges who either hid and destroyed evidence of his innocence or sat silently by and watched as it was done.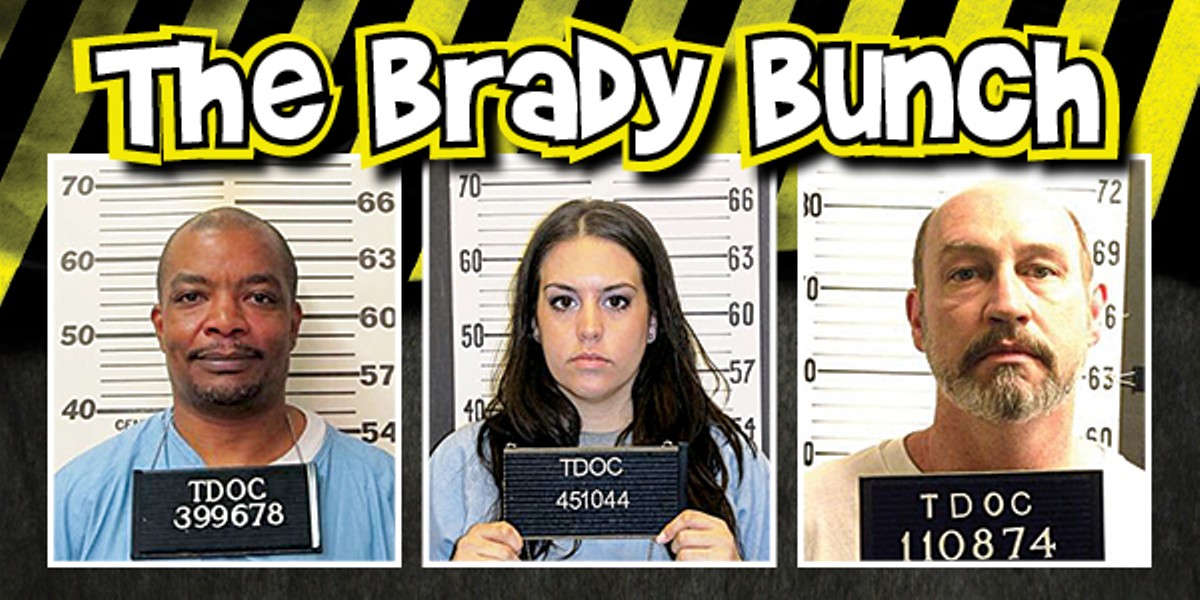 Can you guess (by looking at the picture) which defendant did not get a court ruling in their favor?

Each of above defendants had Brady Violations & evidence of innocence withheld during their trials by Amy Weirich or the Shelby County DA's Office in Tennessee. Two of them got relief and new trial orders. The Black one did not.
(Photo from "The Brady Bunch" by the Memphis Flyer
BACKGROUND
Vern was charged with the death of his wife Shelia after they engaged in erotic asphyxia (a.k.a. choking during sex). When it was over Shelia was alive, although not feeling well, and she eventually died later on that night while in their Jacuzzi after additional complaints about feeling ill.

Even though his wife Shelia had:
• very old acrylic nails that were all intact and none broken off,
• multiple huge decorative body piercings in intimate locations that were not bothered and had no trauma,
• no defensive or fight marks anywhere on her body,
• and a police scene investigator who declared, "there did not appear to be any noticeable injuries to her … that you would typically see in someone who's been murdered"...
...prosecutor Amy Weirich still took Vern to trial for first degree murder by saying the Braswells got into a physical fight in the middle of the night while they were naked that ended in Shelia's death.
• Vern also had no marks, scratches, or evidence of a fight anywhere on his body
EVIDENCE OF INNOCENCE THAT PROSECUTOR AMY WEIRICH
WITHHELD AND DENIED AT TRIAL
• Withheld medical records and evidence that proved Shelia had a deficiency that would result in temporary paralysis which would have backed up Vern's claims about Shelia dying in the Jacuzzi but Weirich chose to tell the jury there was no reason why Shelia couldn't remove herself from it.
• Weirich withheld evidence which proved she had knowledge about a woman who was an intimate partner of the Braswells who could have backed up Vern's trial testimony, but Weirich chose to keep this evidence from the jury.
• Withheld evidence of letters that proved Weirich knew that Vern and Shelia resolved differences by amicably writing letters to each other, but Weirich portrayed to the jury that Vern resolved issues with Shelia by being wife beater.
MORE EVIDENCE OF VERN'S INNOCENCE
• A woman who was left out of the trial because of trial attorney error, was later located. She later showed up and told the court that on multiple occasions she witnessed the Braswells engaging in erotic asphyxia because she actually participated in intimate acts with the Braswells .
• An expert forensic pathologist who was left out of the trial because of non-payment by the original trial attorney and poor commutation, later showed up and told the court that the autopsy findings were consistent with erotic asphyxia.
POSSIBLE CRIMINAL CONDUCT BY OFFICIALS
• Some of Vern's best evidence which directly contradicted the prosecutors' claims, completely vanished from the "secured" court records. The disappearance benefited prosecutors because it meant that Vern was stuck with a sentence he couldn't effectively challenge.
• A sealed envelope of hidden evidence about Vern was discovered in the "secured" prosecutor's file created by Amy Weirich and when prosecutors were ordered to produce the envelope to see what evidence of innocence it contained, it completely vanished also.
• A young Black female attorney that formerly represented Braswell, testified and spoke out about withheld evidence by prosecutors in the Braswell case that she discovered. Allegedly (based on a Change.org petition) she was blackballed by Amy Weirich's DA office, forced to shut down her practice and leave town.
• Braswell's Black original trial lawyer was informed that if he gave testimony in favor of Vern, the trial lawyer could receive unfair criminal charges filed against him by Amy Weirich's DA office; so he "held back" during his testimony about the Braswell injustices.
The all-White judicial alliance also simultaneously granted relief and new trials to White defendants with similar cases that had fewer inconsistencies and less trial errors than Braswell.
CLICK HERE FOR MEDIA COVERAGE OF VERN'S CASE

CLICK HERE to read our in-depth articles
covering the systemic racial inequalities and corruption in the Braswell case.
VERN BRASWELL'S ACCOMPLISHMENTS IN PRISON...
... earned a doctorate in Biblical Counseling
... helped scores of young men earn their G.E.D.
... worked diligently to take advantage of mental wellness therapies offered
... began developing prison reform proposals and policies that will address the State of Tennessee Task Force areas of need
... began developing prison reform proposals that will increase inmates' success upon release and would save the State millions of dollars.
VERN'S ACCOMPLISHMENTS BEFORE
PRISON
...
... a member of Omega Psi Phi Fraternity,
... a member of Black Scholars Unlimited (college),
... a member of Kappa Delta Pi Professional Educ. Honor Society
... a member of Prince Hall Masons
... a local prison ministry activist (weekly)
... a state level prison activist coordinator (quarterly)
... the creator & operator of a Hotels & Homes network for homeless students and their families
... the creator of volunteer disaster relief fundraisers for tornado victims in TN
... the creator of fallen officer fundraising events
... the creator of murder victims' family fundraising events
... an educational activist in rural poor White and urban poor Black communities
... the creator of a Black college students to Black elem. students program (tutoring and mentoring)
... a Saturday School volunteer (tutoring)
... an educator who worked his way up from a teacher assistant to assistant principal
... a graduate with a bachelor in education, master in leadership & policy studies
... a licensed educator
... a licensed administrator
... an assistant and a leader for national field trips for White kids, Black kids, city kids, & country kids.
... a co-creator of a grants program for hundreds of schools in America for committing to recycling.
- (ALL OF THE ABOVE ONLY GOT VERN ONE YEAR OFF THE MAXIMUM SENTENCE)
Follow @J4VernBraswell and @BlackDefendants
for details on racial inequalities and corruption deep in the Tennessee criminal justice system that will BLOW YOUR MIND!!!
LIKE ON FACEBOOK
FACEBOOK: JUSTICE FOR VERN BRASWELL
If Tennessee would have had Black Defendants Matters policies in place which guarantee...
- Fair and Equitable Treatment for ALL,
- Uncompromising Transparency, and
- Uncompromising Accountabiliy
throughout the ENTIRE criminal justice system,
...Braswell would not have been repeatedly violated by the Tennessee Criminal Court System.
Subscribe to be the first to receive...
a notification when we publish our soul stirring articles listed below as well as new developments in the Braswell case.
As You Read Our Articles
You'll Discover There Are
Two Justice Systems.
One Black
One White
Very Unequal
- Why did some of a Black Defendant's Best Evidence Vanish and
White Judges Let it Slide...

Tennessee's Catch Me If You (In) Just-Us System
- Vern Braswell was prosecuted by an all White team of prosecutors. His attorney finds a sealed envelope of suppressed evidence in the prosecutor's "secured" files that says DO NOT SHOW TO THE DEFENSE. Then the envelope mysteriously disappears. An all White panel of Judges say Braswell's attorney should have done a better job of catching the all White team of prosecutors redhanded before the evidence they initially concealed eventually vanished. Don't believe us? Read It and see for yourself!

TN White Courts Version of Black Justice (Press Version w/ Citations)
- Read how justice is dealt to a Black defendant by all White prosecutors and judges in Tennessee when there is zero accountability. Citations included because you wouldn't believe it if we didn't include them!
(Amplifiers) TN White Courts Version of Black Justice
- This version is for amplifiers. You can quote, share, print. post. or tweet this version when you amplify the systemic racial injustice of the Braswell case using your platform.
Twenty TweetAble Takes From the Vern Braswell case
- We are providing amplifiers with a bag of 20 bite sized Ready-to-Tweet nuggets from the Braswell case for your posting pleasure (hashtags included).
Please post or tweet one-a-day to keep attention on the systemic injustice in the Braswell case. COMING SOON
FIVE PART SERIES
WHEN THE TENNESSEE COURTS THAT BENEFIT WHITE DEFENDANTS, REFUSE TO EQUALLY BENEFIT BLACK DEFENDANTS
Vern Braswell Verzuz the White Cases
- Read how the all White TN Criminal Appeals Court treated a White erotic asphyxia defendant verzuz a Black erotic asphyxia defendant with way more trial errors and mistakes. Guess which one got the relief.

Vern Braswell Verzuz the White Cases
- This time the all White TN Appeals Court gave a White defendant (who stabbed their spouse in the back) relief because their trial attorney made a mistake, but the Court refused to help a Black defendant who's attorney made the identical mistake plus many more mistakes.
Vern Braswell Verzuz the White Cases
Round Three: Jury Deliberations
- The same TN Court gave relief to a White defendant based on how the jury deliberated, but refused to give relief to a Black defendant even though his jury deliberated exactly the same way and indicated he was probably more innocent than the White defendant.
Vern Braswell Verzuz White Cases
Round 4 Hiding Evidence of Innocence, (Bonus Round)
- Braswell's White prosecutor withheld evidence of innocence in the case of a White defendant and eventually gave the evidence to the White defendant's lawyer. When the same prosecutor withheld evidence in the Black defendant's case, she refused to give it to his lawyers. The all White Judges and the TN lawyer board refused to do anything about the prosecutor in the Black case.
Vern Braswell Verzuz White Cases
- Braswell's same prosecutor intimidated a Black expert witness to prevent him from testifying in a White defendant's case, the all White judges gave the defendant relief (in part) because of the prosecutor's actions. The same issue was egregious in the Braswell case but the courts refused to give Braswell relief.
NO! Says the TN All-White Judges' Club.
- Take a look at all of the newly discovered evidence of innocence that was presented before the Tennessee all White Judges Club and why it didn't make sense when they said a witness with first hand testimony did not matter for a Black defendant.
Braswell's Prosecutor is the Worst of the Worst Prosecutors
- Harvard Law School uses Vern Braswell's case as justification for why his prosecutor, Amy Weirich, is one of the worst prosecutors in America when it comes to misconduct in the publication by The Fair Punishment Project.
Vern Braswell's Original Trial Lawyer
Why was Vern Braswell's original trial attorney disbarred? Why did one of the Judges find him credible in Braswell's case right after she caught him testifying "inconsistent with the facts"?
ATTENTION: Investigative Reporters, Scholars, and Sleuths. Can You Solve the Sealed Envelope Case?
- We supply the documents, you supply the wits. Do you have what it takes to solve the case of the missing sealed envelope bearing the prosecutor's initials? Who lied and what did they hide?
The Colin Kaepernick of the Criminal Justice System: Senior Judge Gilbert S. Merritt
 - "This set of falsehoods is typical of the conduct of the Memphis D.A's office during this period."
- Senior Justice Gilbert S. Merritt from Owens v. Guida 549 F.3d 399, 425 (6lh Cir.2008),
He is honest and courageous enough to point out that the Memphis prosecutors were typical liars. So why did a judge with arguably the greatest amount of integrity in the entire criminal justice system get passed over for a seat at the law of the land? Sometimes sacrifice, integrity, and being ostracized go hand in hand.
My Son Vern Has Been Diagnosed With Cancer: 3 Ways to Help
Cancer for a Black Man
On the streets of Tennessee during a pandemic, Can be a critical situation...
Cancer for any Black Man
In the prisons of Tennessee during a pandemic, Can be a death sentence...
Why Vern's Cancer Diagnosis is so Devastating
Vern has earned a doctorate degree while incarcerated and wants to use his degrees to develop prison reform proposals.
(For Donors) How to Slave Whip a Black Community Activist
- Vern Braswell dedicated over 15 years of extensive community service in both Black and White communities. Dozens of Memphians wrote in and made the courts aware of this until all of the documentation and evidence of this totally vanished from the official court records. This head shaking article about abandonment, betrayal, and corruption will have you as angry as a police brutality video.
The Court of All White Judges' that Silently Supervised the Braswell Injustice.
Vern Braswell lets us look through his eyes as he appeared before all White judges on his journey through the Tennessee Criminal (In)"Just Us" System, including when he first realized that in the eyes of the courts he was just a n*gg*r. COMING SOON
Her Hate & The Sex Business Hit Squad
- Why did Braswell's prosecutor take a "win at any cost" attitude in the Braswell case? Perhaps going back to her big loss when she was a "lieutenant" on the sex business hit sqaud will provide some insight into the source of her deep seeded hate hate. COMING SOON
Vern Braswell's Clemency Petition
We take a look at Vern Braswell's Clemency Application and the reasonswhy he's petitioning the Governor for a commutation. COMING SOON
Vern Braswell's Genesis Joseph Approach to Prison Reform
Vern Braswell draws on his education, work history, and lessons learned from his incarceration to develop a prison reform approach which will solve most of long standing ills of incarceration and recidivism. Will the State of Tennessee listen to his wisdom on the subject? COMING SOON
An Interview...
- Vern Braswell answers our questions to provide insight and a bird's eye view of traversing the criminal justice system as a Black man. Why did he open up with the closing arguments from A Time to Kill? COMING SOON
EMAIL THE GOVERNOR
Please show your support for Vern being granted a Clemency release because of the injustices in his case, his cancer diagnosis, my poor health, and so he can continue working on his prison reform proposals and prison reform research. CLICK HERE TO SEND AN EMAIL to the Governor of Tennessee in support of a clemency request to commute Vern's remaining 4 1/2 year to home confinement. THE EMAIL will go to TN's Gov Lee & the Clemency Unit.

You MUST include your info at the closing of the email. God bless you.


If you want to join us in helping to get Justice For Vern please contact us and follow us at J4VernBraswell@afmfm.org
@J4VernBraswell

This was composed in conjunction with Black Defendants Matter. BDM is responsible for researching and publicizing the Braswell case. Our policies will guarantee an end to brutality and racial inequalities in the criminal justice system.
Will you please help us?
Visit, follow, & contact us at: www.BlackDefendantsMatter.org
@BlackDefendants BDM@Afmfm.org